Livestock breeding is one of the important economic sectors in Vietnam. However, it appears that due to the competition pressure, disease, and lack of the control of the authority, the quality of the products have been negatively impacted. It is important for Vietnam to encourage project to
set-up business in Vietnam
in animal breeding to create a better competition environment, with high quality standard of products to be produced under a better control of the local state authorities.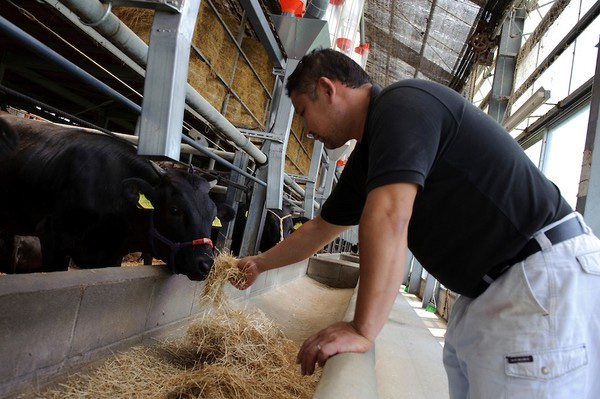 Mr. Hironori Sakai, Secretary General of the Vietnam-Japan Friendship Association, had just have working visit to Quang Binh province (Vietnam) to survey implementing the Kobe cow raising project.
The delegation was welcomed by Vice Chairman of Quang Binh People's Committee Mr. Nguyen Xuan Quang and leaders of Departments of Planning and Investment, Agriculture and Rural Development, Natural Resources and Environment, Foreign Affairs, Port Authority, Provincial Customs Department.
At the meeting, leaders of the Quang Binh Department of Agriculture and Rural Development reported on some issues related to the Kobe cow raising project in the province.
Accordingly, the Department has also introduced the locations in Quang Tien, Quang Luu Commune (Quang Trach District) and Truong Xuan, Truong Son (Quang Ninh District) for investors to select and deploy the project.
At the present, the whole province has about 2,200 hectares of grass and maize for cattle feed. When implementing the project, the Department will direct localities to actively convert other areas of rice and inefficient crops into grass and maize to ensure sufficient feed supply for the project.
Speaking at the meeting, Mr. Nguyen Xuan Quang stressed that the investment in cattle breeding project in Quang Binh is in line with the provincial policies and orientations. The province is willing to create favorable conditions for Japanese business delegations to explore the necessary conditions for the investment procedures.
In addition, Vice Chairman Nguyen Xuan Quang also requested the Japanese business delegation to coordinate with the relevant departments and localities to complete the legal procedures to implement the cow raising project in Quang Binh province in the shortest time.
ANT Consulting is here to assist you from the outset; providing corporate intelligence, risk advisory, management consulting services that assist market entrance, and ensure efficient business start-up operation. Our services are as following:
We strive to save your cost by guiding you towards economical solutions that comply with local legislation and procedures. We support you through early logistic solutions and carry you through as your business grows. We aim to bridge the gap between international best practices and local cultures and assist foreign companies and organizations entering Vietnam market to overcome commercial and regulatory issues.